That first week of January feeling. The decs are down, back to work. You have a fresh perspective on the future but are secretly yearning to go back to December 23rd. As if. It's time to move on, but worry not as 2020 could be your best business year yet.
Throughout January we are going to look at how you can put the foundations into making your business great. This week, we start with what to look for when you are hiring and growing your business.
Get more offers accepted by expanding your network
Businesses usually cast their net to the unknown labour market to find new talent. Most directors believe that a job ad posted via Monster Jobs or the like usually does the trick. But the problem is that it doesn't. You are venturing into the unknown, inviting in potential employees who you have never met before. In the brief interview how can you tell that you are making the right choice?
A good business leader never stops searching. They will keep their eye open for talent everywhere they go, and build professional relationships so that when the time to hire comes, they have a pool of people to speak to and consider.
If you aren't the networking type, speak to your associates or friends. The best recruits are done through personal contacts, professional networking or word of mouth.
Tell your story
Don't just post a job. If you have staff employed already, tell their story via your website or social media. What makes your company tick? The culture and personalities are key, and you can attract potential by telling everyone about your company. Post blogs about your people, not just about how great they are in the workplace but what about their hobbies and what makes them love working for you. On your website and across social media, these posts will allow you to showcase your culture so that potential recruits can make sure they are the right match before they apply.
If you are going to post a job, get more qualified applicants with engaging job descriptions and unique recruitment processes
Most job descriptions follow a standard format. They start with a general description of the company. That's followed by either a high-level description of the position or a list of expected job tasks. Finally, there's a bulleted list of requirements and maybe a list of benefits.
Boring job description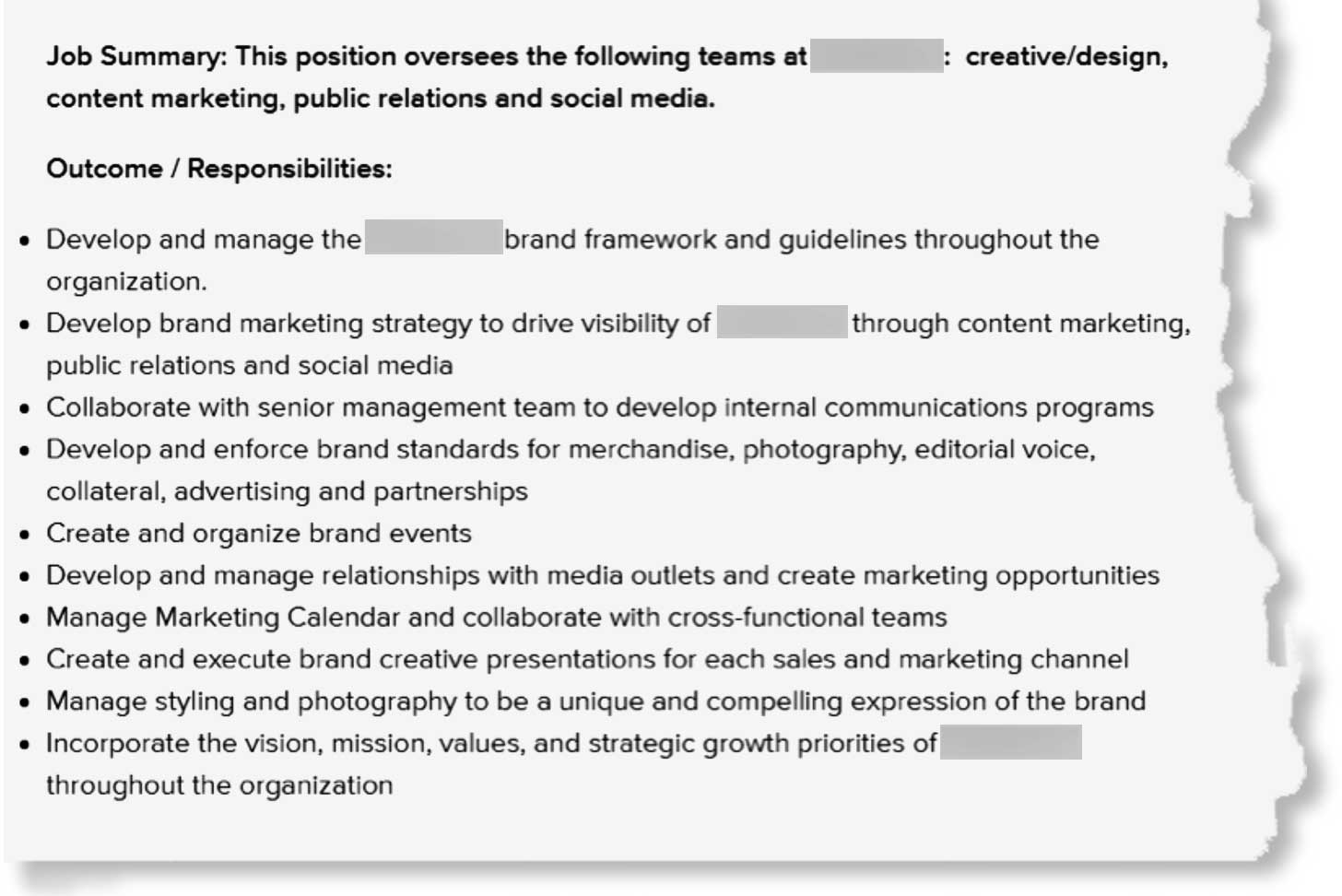 The problem with this approach is that it's too formulaic. It doesn't give potential candidates any sense of the business personality or the company culture. It doesn't explain why someone should want to come and work for the company. It's me-focused, not you-focused—centred on what the company needs, not what it offers its employees.
"It's too easy to assume job descriptions equal compelling content. They don't."
Shaunda Zilich, Global Employment Brand Leader
To get more applications from qualified applicants, you must overhaul job descriptions to make them more engaging to today's job seekers. Consider how much more engaging and personable the following job description is compared to the one above:
interesting job description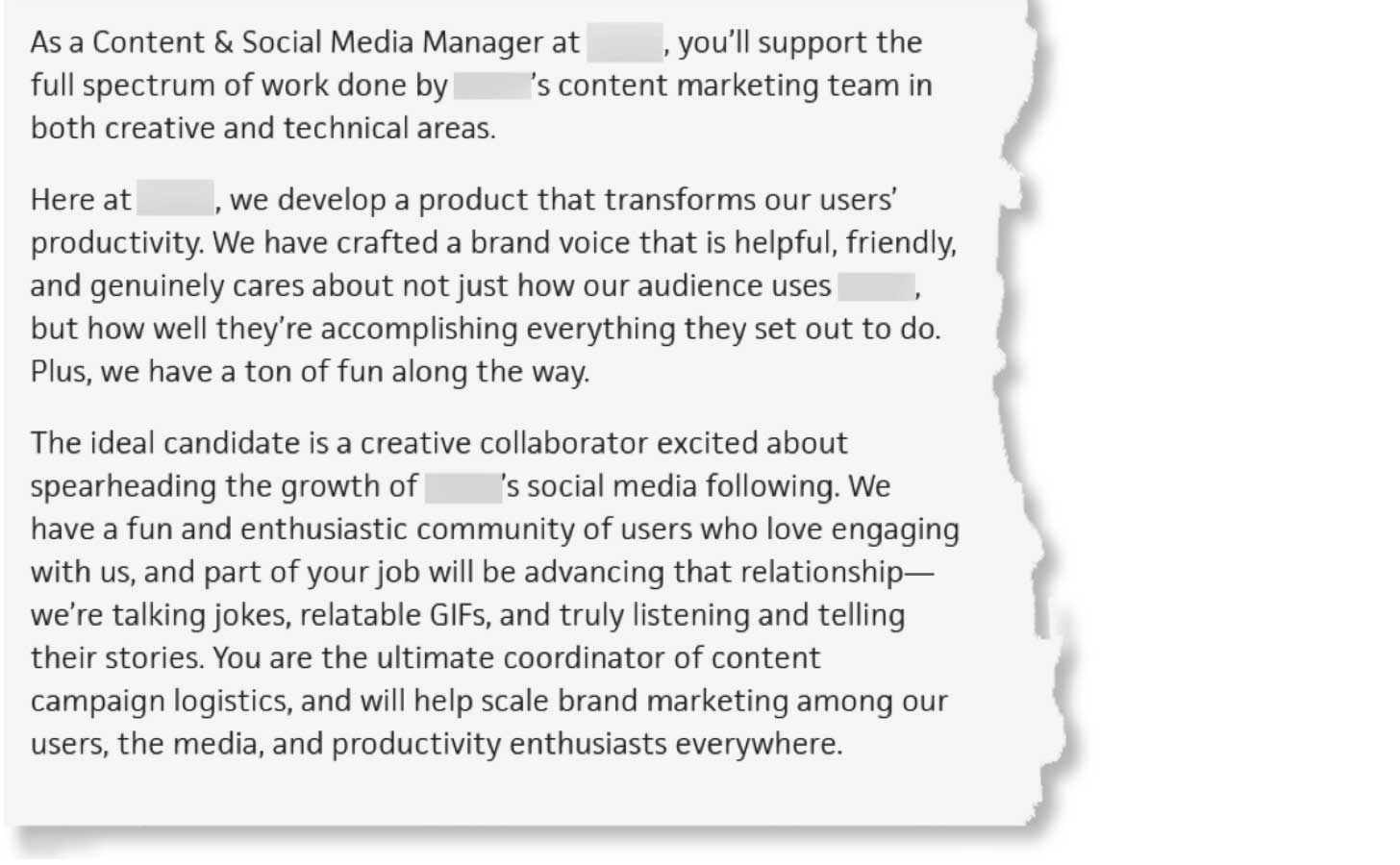 The first example is a pretty traditional job post. It clearly explains what the expectations are for the role, but it lacks any unique qualities. It's boring. The exact same job description could be used by any company with a similar job opening.
On the other hand, the second job post tells a story. It really gets to the heart of the type of person the company is looking for. It's engaging, unique, and compelling.
If you want to get more high-quality applications, create job posts that look more like example two than example one. Tell more stories and rely less on bulleted lists. And make sure to include the top five pieces of information job seekers look for in job ads: salary, benefits, location, commute time, and employee reviews.
Some of this can be included in the job description itself, but it's also fine to link from the job description to certain information on your company website.
Induction process
Make this the key part of your people strategy. Don't just prioritise getting the desk ready and meeting the team, build a minimum 4-week plan where you can have two-way dialogue throughout with the new recruit, and ensure that they have key objectives set for when they are inducted into the business. Studies have shown that where an individual is not given sufficient direction/objectives after six weeks in the business, then their initial optimism and motivation disappears and you could therefore be left with a disillusioned employee.
Reward
It's 2020 – these days you don't get a secure job for life with gold plated pension, everyone knows that. However, there are many ways that you can ensure you retain your new recruit for as long as possible, and it all comes down to some creative thinking by the employer. Jake Young, who carries out research into reward policies for CIPD told us that as a business owner you should think about the basics that will engage and motivate your staff. Jake added that 'even small gestures such as a relaxed dress code can really make the difference to your employees. In 2020 we know that they will be looking for more beyond the pay and being creative can foster engagement in your workplace to build loyalty.
The employer of the twenties will need to strive to give their employees reason to believe in them, it appears that the decade will continue to be a candidate driven one.
For more information on how you can build engagement and for a free reward and retention guide, contact us now.